MA-URI® ORIGIN
MA-URI is created by the couple Hemi Hoana Fox and Katja Fox, who are leaders of the MA-URI Institute, based in Denmark and New Zealand.
Hemi is of Maori descent (the Maori constitute the original population of New Zealand). At a young age he was initiated by his grandmother, and he got is first introduction to Maori healing methods by his mother, Mary W. Fox.
One of the key persons in Hemi's life who pushed him in the direction of the task of his life, was Abraham Kawai'i, a "Kahuna" (wise man/shaman) from Hawai. Kahu introduced Hemi to the Hawaian bodywork traditions, which he was teaching; after this Hemi was left to find his own path, and discover where it would lead him.
He had no idea that this path was going to take him to Denmark, and to playing an important part in the creation of MA-URI, a spiritual body-way to personal transformation and self-healing. Walking this path contributed to Hemi's own development into a charismatic, dynamic and inspiring coach and teacher.
Katja was born and grew up in Denmark; daughter of a Danish father (a veterinarian surgeon) and a Polish mother (a nurse from Danzig).
Katja has an MA degree in English literature, and for some years she was also working as a cheramic artist. This led her to deeply spiritual experiences, and gave her a profound insight into the connectedness of everything. Through a transformational experience in 1987 certain essential principles was conveyed to her from a source, which turned out to contain all the necessary material for the creation and development of MA-URI and the education MA-URI Healing Arts.
These spiritual experiences marked the the starting point for the development Katja's special skills as a facilitator, teacher and mentor.
The roads of Hemi and Katja crossed in 1990 in Denmark, shortly after Hemi had settled down in Copenhagen. One year later the time came to bring together what each of them had experienced and developed. What they had gathered individually was now ready to be further explored and developed. Like the pieces of a jigsaw puzzle everything fell into place, now with a new content within a new container, and a new purpose: MA-URI Healing Arts was created!
A more detailed description regarding the founders of MA-URI can be found here http://www.ma-uri.org/the-institute/leadership/ (also the source of above information and pictures).
Hemi Hoana Fox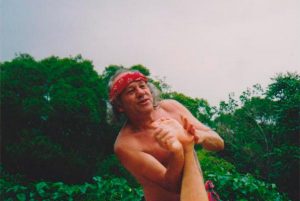 Katja Fox